The method is the same as before: They offer domain names that look relevant for the company, and say that these names are in great demand so you must hurry up or risk trouble. Our advice: Check who is contacting you, carefully consider your real needs for domain names, then contact your registrar.
This method is well known both in Norway and abroad. The domain name holder is contacted by a seller who offers the company's domain name under other top-level domains than the Norwegian one. Say you have the domain name mycompanyname.no, then you are offered mycompanyname.com or mycompanyname.shop. The seller claims that he has other customers on hand who are interested in these particular domain names, and then warns about potential trouble if you don't secure these domain names for your own company immediately. The result is a huge bill for services that you do not need.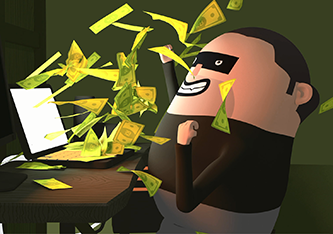 We see this type of scamming irregularly, and it is no surprise that this happens just now when Norway as well as the rest of the world are still dealing with the COVID-19 crisis. In a situation like this many of us show less caution, and scammers know how to exploit such vulnerability.
Could it be a good idea to buy domain names under several top-level domains in any case, though? Today there are some 1,500 different top-level domains worldwide, either country codes, such as .no or .se, traditional generic top-level domains, such as .com or .net, or the new generic type, such as .shop or .gay. The vast majority of Norwegian companies chose the Norwegian country code for their primary domain name. Depending on which market the company is operating within, it may be relevant to register the company name and trademarks under one or more top-level domains other than the Norwegian one. However, this is an issue for careful consideration and decision and should not be influenced by a random, pushy seller. We recommend that you discuss the matter with your domain name provider.