When you are starting your own business, you need to get a domain name subscription, register a business name and think about whether you need to protect your trademarks and any other rights. It is important to do these tasks in the right order. If you also use your domain name as your profile name in social media, your business will have a clear identity across all platforms. This increases the chance of people remembering you and finding you.
You should not begin by registering your business in the Central Coordinating Register for Legal Entities (Brønnøysundregistrene), because then everyone else can see what you registered and guess which domain name you want. It's better to keep your cards close to your chest until the domain name is registered.
Search the domain name register, the Central Coordinating Register for Legal Entities and the trademark register in one single search, navnesok.no
How to proceed to get your domain name subscription
Now you are ready to think about the services you need for your domain name and to develop your business website. There are free publication tools available if you do not want to hire a professional web developer. Your registrar can tell you more about your options.
What does a domain name subscription cost?
The registrar pays a set rate to us to register a domain name subscription. You pay your registrar for their part of the job, this normally includes the subscription fee. Rates vary depending on the types of services you order, rates also vary between registrars.
Our price to the registrar for a domain name subscription is 65 NOK plus VAT. The fee is the same whether it is a new subscription or a continuation of an existing one. The subscription period is one year.
The registrars have different price models, and some also have special offers that might result in a lower price. It can therefore be worth while to check prices from several registrars.
Do you need your own website, or is Facebook enough?
As a business professional, you need to be present online. The question is where and how. Serious professionals have a website on their own domain name, and they use the same domain name in their e-mail addresses. Many also use social media, such as Facebook, Instagram, Snapchat and others. Here, they generate interest in their business and attract followers, who are potential visitors to their website. So, the answer isn't either/or — it's both.
What are the advantages and drawbacks of a dedicated website and social media? The advantage of having a website and e-mail on your own domain name, is that you can make your domain name your own little corner of the Internet for the rest of your life and be in total control of its content and operation. If you choose to go with free services, such as blogg.no and others, you relinquish control to the provider of that particular service. The same applies to free e-mail services, such as Hotmail, Gmail, etc.
Social media have a huge impact, and they are very user-friendly. They are tailor-made for networking and offer smart and affordable advertising. At the same time, though, you have to accept their terms and conditions, and these may change without your knowledge or control. Free is never really free. The threshold for getting started with a website on your own domain name is a bit higher than creating a Facebook profile, but there is several cheap and relatively simple tools available.
Using the same name across all channels creates a clear identity
Once you have the domain name you wanted, you should create social media profiles with your domain name as the profile name. This will establish a clear identity for your business across all channels, increasing the likelihood of someone remembering you and finding you. Remember, you don't have to fill your website or social media with content right off the bat. You may not even use all of them. This is something you can decide as you go. The most important thing in the beginning is to claim the profile name.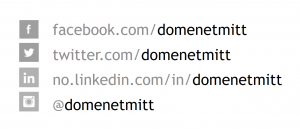 More about starting a business
Online presence – where and how? Norid's in-depth guide to names online
Altinn: Guide to registering a business enterprise
Norwegian Industrial Property Office: How to protect trademarks, patents and designs
More about building an identity online (video)
#1 tip for entrepreneurs: Get yourself a good domain name (folder, PDF)