Norid hosts the Internet forum together with the Norwegian Communications Authority (Nkom). The forum is an arena for interdisciplinary dialogue about important issues surrounding the framework for the internet. By identifying and raising relevant questions about the internet, the internet forum helps expand knowledge among different local target groups and is therefore a national contribution to the international discourse about the framework for the internet that happens in the Internet Governance Forum, among other places.
---
The internet forum 2023
Suggestions for content?
The date and theme for this year's internet forum has not been set yet. We would love to hear from you if you have suggestions for content and speakers you would like to see. Email it to us on info@norid.no, with "Internet forum" in the subject line.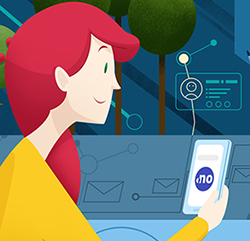 ---
Previous internet forums
These pages are in Norwegian only.
Internettforum 2022: Digitalisering og regulering
Internettforum 2021: Krise åpner nye muligheter
Nasjonalt internettforum 2019: Digital tillitskrise?
Nasjonalt internettforum 2018: Komplekse verdikjeder i vår digitale hverdag
Nasjonalt internettforum 2017: Tillit og sikkerhet i vår digitale verden
Nasjonalt internettforum 2016: – Det er noe på nettet vi ikke liker
---
Read more about Internet Governance